Oil Seal Chain for Motorcycle Chain , as described, are a type of roller chain specifically designed with a sealing mechanism to retain lubrication and reduce friction during operation. These chains are commonly used in various industrial applications where extended service life and minimal maintenance are essential. Here are some key features and advantages of Sealed Chains:
Sealed-In Lubrication: Sealed Chains have a unique design that includes a seal or ring that encapsulates lubrication within the chain components. This design helps maintain a constant supply of lubrication, reducing the need for frequent relubrication.

High-Quality Materials: These chains are typically made from superior alloy steel, known for its strength and durability. The high-quality materials ensure the chains can withstand heavy loads and harsh operating conditions.

Heat Treatment: Sealed chains undergo special heat treatment processes to enhance their strength, wear resistance, and overall performance. Heat treatment helps ensure the chains can endure demanding applications.

Reduced Friction: The presence of a special formulated grease contained within the durable sealing ring minimizes friction between the chain's components during operation. This reduces wear and heat generation, ultimately extending the service life of the chain.

Minimized Chain Stretch: The reduced wear and friction associated with sealed chains result in less chain stretch over time. This means that the chain maintains its initial length and performance for a longer duration.

Low Maintenance: Sealed chains are designed to require minimal maintenance. With their built-in lubrication, there is less need for manual relubrication, reducing downtime and maintenance costs.

Wide Range of Applications: Sealed chains find applications in various industries, including manufacturing, conveyor systems, packaging machinery, and more, where reliability and extended service life are essential.

Increased Service Life: Thanks to their durable construction, reduced friction, and built-in lubrication, sealed chains offer an extended service life compared to standard chains, making them a cost-effective choice for long-term use.

Reliability: The consistent lubrication and low wear of sealed chains enhance the reliability of machinery and equipment, reducing the risk of unexpected downtime and costly repairs.
Sealed chains are a valuable solution in industries where reliable and long-lasting chain performance is required. Their ability to retain lubrication, reduce friction, and extend service life makes them a preferred choice for various applications.
specification :
520EX/525EX/530EX/520EXR/525EXR/428UO/520UO/525SUO/530SUO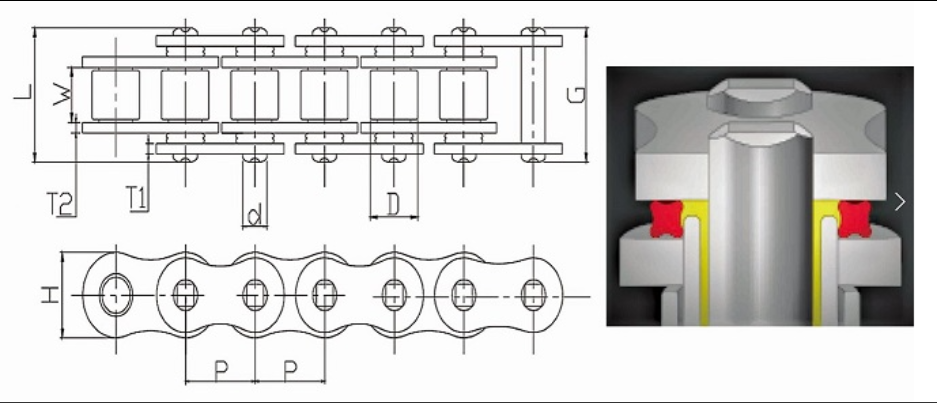 O-Ring